On March 16, 2023, Microsoft Corp. announced it is bringing the power of next-generation AI to its workplace productivity tools with Microsoft 365 Copilot.
Copilot saves you time by automating routine tasks, streamlining business workflows, and providing valuable insights to help you make the right decisions. It brings together your own data—your internal documents, presentations, chat, and email—and uses it to help you draft emails, summarize meetings, and more.
Microsoft 365 Copilot isn't just a better way of doing the same things. It's an entirely new way of working. Copilot will work alongside Microsoft 365 customers in two ways:
First, it is embedded in the Microsoft 365 apps people use every day — Word, Excel, PowerPoint, Outlook, Teams and more.
Microsoft 365 Chat is the new hero experience for Microsoft 365 Copilot and goes far beyond simple questions and answers. It combs across your entire universe of data—all your emails, meetings, chats, documents, and more, plus the web—to solve your most complex problems at work. With natural language prompts like "tell my team how we updated the product strategy," Microsoft 365 Chat will generate a status update based on the morning's meetings, emails and chat threads.
On September 26, 2023, Microsoft announced Microsoft 365 Copilot will be available for enterprise customers in EAP starting November 1, 2023. Later, Copilot will be available also to SMB and Corporate Customers through the Microsoft CSP program, but Microsoft has not yet announced any date. Also, for now Copilot is only available in English, but Danish, Finish, Norwegian and Swedish are all expected to be available soon.  
Watch our webinar - Get Ready for Microsoft 365 Copilot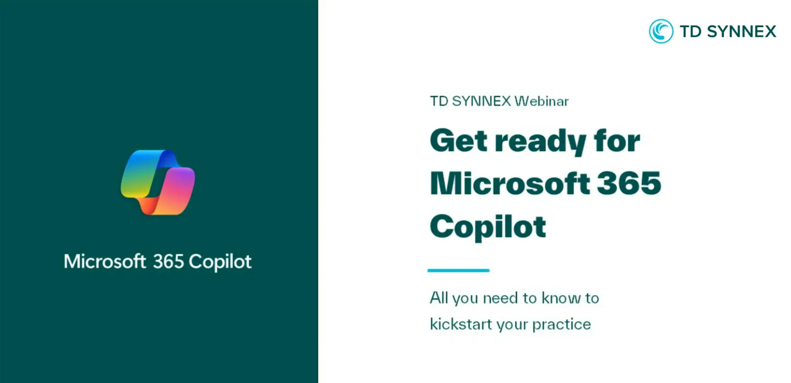 What do you need to know as a Microsoft Partner?
Building on the excitement from Chat GPT, Microsoft has already got a lot of attention for Copilot. And as Microsoft continue to announce new feature enhancements added to the Copilot experience, the excitement continues to rise. As Microsoft Partners, this open new door to engage with our customers and have conversations how Microsoft 365 can help organizations achieve more.
Inspire productive, meaningful work. Speed up communication, streamline employee tasks, and accelerate service delivery.
Increase efficiency and cost savings. Anticipate needs and avoid downtime with predictive capabilities and accelerate operations with automation.
Generate new business value. Generate new products and services, personalize customer experiences, and improve decision-making.
Microsoft 365 Copilot is NOT just another SKU to purchase and assign to users. As a customer, you will need to understand, how Copilot can help you be more efficient and generate new business value. For Microsoft Partners, this is an opportunity to help customers to get ready, and plan for the user adoption. This may include:
Do an assessment of customer's existing infrastructure including security standards and data governance.
Is customer's CRM and Customer Service tools ready to engage with Copilot and is the data quality up to date? This may be a good opportunity for conversations, how can companies optimize sales processes and customer service solutions with Microsoft 365 Sales and Dynamics 365 Customer Service.
Does the company already have solutions in place for file and data governance? Is sensitive files and data protected and labeled for only trusted people to access, or can any people in the organization access any data? This may be a good opportunity to discuss the benefits with Microsoft Purview.
Microsoft 365 Copilot can engage with data in PowerBI but may require the organization to optimize existing reports to make the reports more friendly for the natural language model to learn and understand.
What is customer's secure score? Has the customer implemented a zero-trust policy, or can you help?
Does the customer have any legacy infrastructure? Consider moving on-premise Windows Servers and SQL servers to Azure to make data available for Copilot services.
Is the customer using any own developed business tools? Maybe this is an opportunity to modernize existing legacy apps to cloud and enable the apps for Copilot.
Build an adoption plan for company's employees. What is Copilot, how to use Copilot to be make work more productive and fun and how to use AI tools safely and responsible.
Start now with Bing Chat Enterprise. Bing Chat Enterprise is part of the Microsoft 365 product family and it's included for Microsoft 365 E3, E5, Business Premium, and Business Standard With Bing Chat Enterprise, organizations can unlock the benefits of generative AI, giving employees better answers, greater efficiency, and new ways to be creative. Bing Chat Enterprise is accessible now through Bing.com and Edge Sidebar. Check out the customer-ready deckto learn more about its capabilities.
Build your Microsoft 365 Copilot practice in three steps:
Leverage the tailored resources in our step-by-step framework to learn more about the Microsoft 365 Copilot opportunity and how you can build a thriving practice.
Step 1: Define your strategy
Step 2: Develop skills
Step 3: Operationalize and go to market
Step 1: Define your strategy

Leverage these resources to develop a growth plan for your Microsoft 365 Copilot practice.

Analyze the market landscape
Understand the partner opportunity
Step 2: Develop skills
Help your sales and technical teams build or deepen the skills and capabilities that can differentiate your Microsoft 365 Copilot offering in the market and deliver customer lifetime value.

AI fundamentals
Bing Chat Enterprise resources
Microsoft 365 Copilot overview and technical resources
Building Microsoft 365 Copilot plugins
Learning paths
Packaged engagement
Step 3: Operationalize and go to market

Take the final steps to transition your Microsoft 365 Copilot practice from concept to reality.
Prepare and sell Microsoft 365 Copilot solutions
Engage with customers